Jen ponders the idea of a raft.
A friend recently got me intrigued with the idea of packrafting trips in shallow desert rivers. I can't justify the cost of an
Alpaca
or
BayLee
but would like something more durable and capable then a
Stuapi
,
NRS
,
FlytePacker
or cheap pool toy. Something that could be dragged through shallow sections, beached on gravel bars, floated down the occasional class II+ rapid and paddled through mellow water with lots of sharp sticks.
On a long drive Jen and I became intrigued with the idea of making our own packrafts. The mathematician in me couldn't resist trying to identify the simplest design that could create a functional inflated shape out of a 2d material with minimal simple seams to make home production easy. The math governing inflation of stretchable materials is still intriguingly unsettled. My mind has been keeping me awake as it searches for en elegant solution on par with the catenary curves used to keep the fabric in ultralight tarp shelters taut.
Since not many people make their own packrafts (or Inflatable Kayaks, Matresses, Donuts etc.) it is difficult to find components like lightweight valves. I've managed to locate some valves that suit my needs and some other options that might be better if you are aiming for something more ultralight or mouth inflatable. I've enumerated them below.
Heat sealable nylon "test pillows" with reusable AIRE Summit 2 valves.
White Water Valves
NRS
and other white water specialty shops stock an assortment of two piece valves for white water rafts and kayaks. The stand outs in this category are the Leafield, Halkey Roberts and Aire Tributary Summit valves. These are all two piece valves with a threaded plunger assembly that screws through a hole in the fabric into a receptacle inside the tube as shown in this
Video from NRS.
These valves are heavier then some of the other options but have a number of advantages:
Widely available in white water shops.
Installable without glue.
Reusable for destructive prototype testing.
Proven design with a one way plunger valve for easy filling.
Availability of adaptors that can be used to make inflation bags, blow tubes etc.
Notably the
Feathercraft Baylee
packrafts appear to use this sort of valve.
Partially Installed AIRE Summit 2 valve in a test pillow.
For my material testing and prototyping I chose to purchase two
Summit 2 Valve's for AIRE Tributary
along with
Adaptors
and
Vinyl tubbing
to use them with a pump and eventually make an inflation bag and mouth tube that fit into the main valve. This valve appears to be one of the smaller and lighter whitewater valves available and is also one of the cheapest at $9/valve. It lacks a rubber gasket between the two sections and I've noticed some slow leaks against the rough surface of the thin fabric. For production I may use a double layer of fabric, a thin coat of
Aquaseal
or a gasket made from
Silicone Rubber
to ensure a good seal.
Home Made Mouth Inflation Tube
As part of his excellent site on building inflatable and folding sea kayaks Tom Yost
has instructions for making a flotation bag including a mouth inflation tube
made from PVC pipe fittings, Vinyl tubing and a
NRS Float Bag Valve
.
Mr. Yost's site is a wealth of other information as well though he uses mostly vinyl materials for his kayaks. Packrafts tend to be made from urethane coated fabrics which allow for a more durable, flexible and lightweight construction and release fewer known toxins during production.
Carmo Modular Valve System and Fittings
Danish manufacture Carmo makes a line of urethane glue/welding compatible flanges, fittings and valves. These appear to be the valves and elbow jointed blow tubes used by
Alpaca
for their well regarded pack rafts. The site states that small quantities are available in both PVC and Urethane compatible materials but they must be ordered and shipped from Denmark. Some of the items of interest for DIY projects include:
I may order some of these components to reduce weight once I have a prototype I am happy with but for now the reusability of the Aire valves is nice.
Pool toy/Cheap Raft/Boston Valves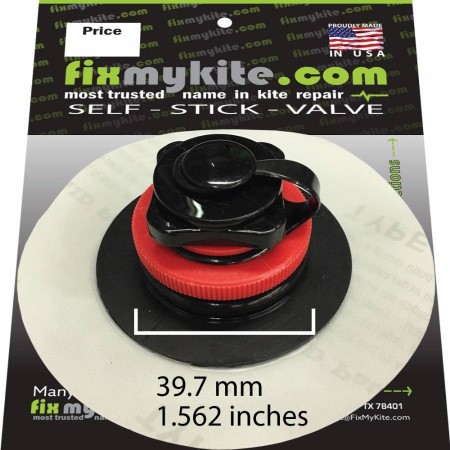 I initially thought these would be one of cheapest and easiest options options and indeed the
FlyWeight FlytePacker
and
NRS PackRaft
use Boston style valve that are rumored to be compatible with
Exped Sleeping Mat Inflation Accessories.
They are unfortunately difficult to source unless you have an old raft to cannibalize. Many places offer replacement boston valves but these don't include the flange to glue into the raft.
The only source I've found for the entire valve including flange is from suppliers of Power Kiting equipment where an inflatable bladder is used to give a kite rigidity and allow it to be launched from the water.
FixMyKite.com has a selection of stick on valves
and fittings available though it is unclear if the stick on portion could be cut off and if the flange could be used with urethane glue. These valves are also more expensive then the Aire valve I purchased from NRS but they do offer both boston and the simpler clear valves used on pool toys which might be nice for seats etc.
Next: The Fabric
The final design for my raft will be determined in part by the materials I can source. I'm happy with the Aire valves for now so the next step is to identify a usable fabric and determine what types of seams can be easily made airtight at home. As mentioned above most modern packrafts are made from urethane coated nylon which allows a durable, flexible and light weight construction
My initial experimentation was done with some
military surplus heat sealable packcloth
and a
sealing iron
and
rubber roller
. This setup has proven extremely temperamental to work with. The fabric has a thin urethane coating on one side and is only sealable coated side to coated side, limiting the designs you can make. This coating is also quite fragile and my test pillows frequently start leaking around the edge of seams where some combination of the heat of the iron and stress in the fabric would cause the coating to degrade.
Further, the seams aren't particularly strong and can easily be pealed apart by hand starting from one of the corners. The uncoated side of the fabric is also prone to wetting out through prolonged exposure to water.
In search of a better method and inspired by the heat welding used in the video above, I used a
cheap digital heat gun
and
rubber roller
to hot air weld some
small samples of urethane coated "Traveler" and "Ballistics"cloth from Seattle Fabrics
. This fabric is not sold as being "heat sealable" with an iron but using a method similar to the one in the video below I was able to produce a very robust seam.
Despite its small area this hot air welded seam can not be pulled apart by hand. It is also very resistant to peeling if one works to pull up one of the "lobes" left by the shaped edge of the sample piece.


Unfortunately this fabric is also only coated on one side and is even more air permeable than the heat sealable fabric. I think the ideal fabric for home tube construction with this method would be a nylon fabric in the 200-500 denier range with a thickish urethane coating on both sides. A thicker 700-1000 denier double coated fabric would be nice for the floor. Such fabric is available in large quantities from custom manufactures but I've been unable to find it in small quantities.
I'm also looking into adding my own coating using either
liquid urethane raft sealant
(see
Dave Chenault's report on this
) or a paint on coating used to
waterproof nylon skin-on-frame sea kayaks
or
recoat whitewater rafts
. These products could be applied either after construction or, if the result is hot air weldable, after cutting but prior to assembly.
PVC coated fabric is another option but it is heavier and releases more toxic fumes during heat welding.
If you've found a source for urethane coated fabric or another source for inflatable valves or glue in flanges let me know by posting in the comments below.
This post is part of a series you can see all the posts under the
Homemade Packraft Tag.